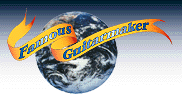 THE FISHMAN STORY

To the ear, a finely crafted acoustic instrument with mediocre electronics becomes nothing more than a mediocre electro-acoustic instrument. At Fishman, we've recognized this fact for many years. And that understanding has always underscored our design philosophy: to build pickups and electronics that bring out the natural warmth of an instrument's sound, instead of altering or coloring it. And to give top musicians the control and quality they demand for recording and performing. In addition, Fishman products offer other pluses:

Balance --
Not only do most Fishman products strive to re-create the natural octave-to-octave tonal balance of the instrument, they also preserve string-to-string balance. The result is truly natural sound.


Versatility --
Most Fishman products are designed to work with any number of different instrument models, so musicians can get the tone and quality they want regardless of the instrument they play.


Integrity --
The last thing a musician wants is to interfere with the sonic or structural integrity of his or her instrument. So Fishman products are designed to be installed without tape or glue. And without the need to alter the instrument's outward appearance.

A brief history: In 1981, Larry Fishman saw the benefits of using piezo-electric technology for amplifying acoustic instruments and started Fishman Transducers. ("Piezo" is derived from the Greek word for "pressure." A piezo-electric transducer is a pressure-sensitive element that senses string and soundboard movement.) After years of R&D, a line of transducers, and active electronics made for them, became a reality. This concept was again raised to a new level with the Fishman Blender line of products. Today, Fishman products are designed, specified, built, tested, and distributed by a dedicated team of pros, many of whom are musicians themselves. In addition, Fishman Transducers has earned a reputation for innovation. No one in the industry holds as many patents, or has made such an important contribution to the science of acoustic instrument amplification as Fishman. In fact, Fishman electronics and pickups are standard equipment on some of the world's finest stringed instruments.
Click on any image to find out why.


In addition to the products highlighted here, Fishman also produces many other fine products designed exclusively for the amplification and enhancement of acoustic instruments. A Catalog of their complete product line will be provided, if requested. 800-FISHMAN.

New from Fishman:

POWERJACK (miniature endpin preamp)

AXISm (battery accessibility for onboard preamps)

Fishman PowerBridge (new bridge pickup that allows you to get an acoustic sound from any Strat® or Tele® -- instantly)

Fishman Product index.

Famous Guitarmaker Internet World Headquarters, http://www.cybozone.com/fg