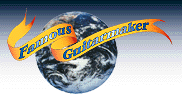 FISHMAN GOES BACK TO THE FUTURE
Fishman Transducers introduces the POWERJACK, a miniature endpin preamp. This preamp brings active performance to all existing passive pickups such as the Martin Thinline, Fishman AG-125, AGX, Sound Board Transducers and most other manufacturers pickups. The Powerjack is futuristically efficient; its tiny circuit board, housed in a slightly elongated endpin jack, has such low current draw that it will work for four years without a battery change if played 8 hours a day. In addition, the Powerjack is "blender-ready"; a microphone can be added easily. with the Powerjack then switched on continuously, the battery will still yield more than a year of guitar playing. the Powerjack will be available from Fishman separately or in systems with an AG-125 or AGX pickup. if you have a passive piezo pickup or plan to buy one because you like the punchier acoustic sound, Fishman's new Powerjack will wake up those crystals and give you a pickup with punch that you can use for years to come. Visit your local music retailer for more details.

THE POWERJACK is shown assembled and with the surface mount circuit board revealed. More information on the Powerjack.
---
Fishman Transducers should be installed by properly trained, qualified personnel to insure optimum performance. If you need assistance locating a qualified installer, contact Gitarmkr@CyboZone.com.


Fishman Product index.



Famous Guitarmaker Internet World Headquarters, http://www.cybozone.com/fg