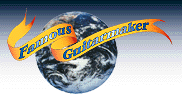 Powerjack
Designed specifically for musicians who use piezoceramic undersaddle pickups and magnetic soundhole pickups, this active buffered preamp offers the benefits and versatility of sophisticated electronics without altering the aesthetics of a valued instrument. Incorporated into an elongated 1/4" endpin jack, its low current consumption (0.04 milliamps) will allow years of use between battery changes. Ideal for those who prefer the punchier characteristics of piezoceramic pickups.
For even more versatility, the Powerjack is easily wired to accept a microphone lead for use with the Acoustic or Pocket Blenders.

---
Fishman Transducers should be installed by properly trained, qualified personnel to insure optimum performance. If you need assistance locating a qualified installer, contact Gitarmkr@CyboZone.com.


Fishman Product index.





Famous Guitarmaker Internet World Headquarters, http://www.cybozone.com/fg