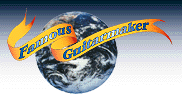 PORTABLE EQUALIZER
A compact and portable equalizer modeled after the Acoustic Matrix Professional control module found as original equipment on many top guitars. It was developed to complement the Acoustic Matrix active pickup system; plus it can be used with any acoustic instrument with piezo or magnetic pickups. Measuring 5 1/8" high, 3" wide, and 1 3/16" deep, the Pro-EQ is a compact, four-band "slider" unit for controlling Bass, Midrange, Treble, and Brilliance. It also has a "set it, forget it" sub-bass trim control and phase switch. Pro-EQ is designed to meet every need of musicians seeking to personalize their sound.

Suggested List $179.95, order # FI.PRO-PRO-EQ1.

Fishman Product index.


In its review of the Fishman Pro-EQ, Guitarist

magazine said, "Excellent... A perfect balance with all the sliders set flat! The sound is rich, warm and very natural... a natty and practical device that could form the vital link in successfully amplifying your acoustic."





© Famous Guitarmaker Internet World Headquarters, http://www.cybozone.com/fg site maintained by cyboboy@cybozone.com