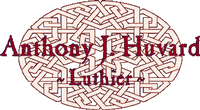 TELE® STYLE GUITARS
Introducing the Orca Tele.

Good ol' Leo Fender really hit pay dirt when he designed the Telecaster®. It is by far the instrument of choice for many thousands of players worldwide; the balance and feel of the instrument, and it's unique sound make owning a similar guitar a necessity for every working professional... BUT, times change... and tastes change... and guitar players are more proficient and demand more from their instruments. Thus I submit for your approval, my 21st century version of Leo's pride and joy....


This flammed maple over mahogany cherry burst Tele boasts hot rod electronics and sculptural lines.


Note the elegant cutaway for accessing the upper register of the Gaboon Ebony (Diospyros piscatoria) fingerboard, and the gently contoured side which allows the instrument to hug the midriff of the player -- no sharp corners here to poke into your ribs.
Created for jazz guitarist, Penn Farmer, Orca features a fully contoured solid Honduras mahogany (Swietenia macrophylla) body and neck. The contours eliminate the square corner feel of the stock instrument, and is more comfortable for the player. The flammed maple (Acer saccharum) overlay on the face is steam bent to allow it to conform to the forearm contour which is a fairly unique feature in tele style instruments.The cherry burst tint that adorns the top is an aniline based, transparent lacquer tint that allows the character and grain of the maple to shine through. Notice the rear routed control compartment. Typically these instruments have a very small, thin channel routed in the top of the instrument to accommodate the selector switch, volume, and tone controls. Orca has very complex electronics and requires a larger control cavity to accommodate the circuitry and battery. Also you will notice that unlike the Fender Tele®, Orca does not have a pick guard or cover plate that occludes the unique grain characteristics of the top. The instrument features gold plated hardware, ivory nut, Sperzel Trim-Loc tuners, and a delicate headstock inlay of ebony and gold mother-of-pearl.
One of the most interesting features of this instrument is a specially fabricated tailpiece designed to accommodate the tiny wires of the transducer elements embedded in the individual Graph Tech® saddles. These transducer elements provide the acoustic sound many players long for. The elements are available from Mike Christian Guitar Technology


This specially fabricated tailpiece accommodates transducer element installation.

Orca -- Continued...

Photograph index | Reading List | FAQs | Home Page | E-mail



copyright 1997 anthony huvard, http://www.cybozone.com site maintained by cyboboy@cybozone.com