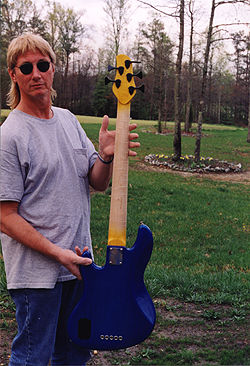 Another satisfied customer.

(Note: Charlie plays bass, sings lead vocals and backup in Richmond, VA's premiere blues band "Smokin' Section" featuring Rick Meek on guitar, Peanutz Puckett on drums and vocals, Johnny B for harp and vocals, and Steve Utz on keyboard.) For booking information contact Charley.Holliday@gte.net
5 String Fretless Bass Neck

Although everything I build is custom and thus unique, few folks realize that in addition to complete instruments I also fabricate specialty components used to upgrade and enhance the existing and often times "favorite" instrument of the players that I work for. Following is an example of just such a project. A replacement fretless neck for an existing 5 string Fender® Bass.