Famous Guitarmaker Internet World Headquarters
Featured Artist
November, 1996
---
Bare Bones
"Time Won't Wait"





SELECTIONS




SEASONS OF CHANGE (Shelton, Bassett, Porter) 3:51

POWER SURGE (Shelton, Bassett, Porter) 5:06

SAME OLD THING (S. Chandler) 3:34

FUNKY BUTT FEVER (Instr.) (Shelton, Bassett, Porter) 4:18

STRANGE DAZE (Shelton, Bassett, Porter) 6:07

DOWN THE ROAD (Shelton, Bassett, Findlay) 4:04

TIME WON'T WAIT (P. Shelton) 3:09

NO LUCK TONIGHT (Shelton, Bassett, Porter) 4:10

WAITING FOR THE DAY (Chandler, Bassett, Porter) 2:48

COMING HOME (Instr.) (Shelton, Bassett, Porter) 5:44



BARE BONES:

Shawn Chandler - lead vocals
Phil Shelton - guitar
Steve Bassett - bass guitar and keyboards
Ed E. Lee - drums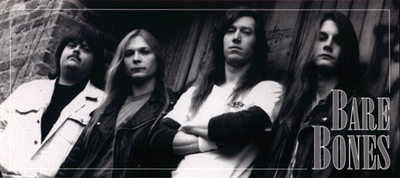 Left to right: Phil Shelton, Steve Bassett, Ed E. Lee, Shawn Chandler

Produced by Phil Shelton and Steve Bassett
Engineered by Brian Findlay
Digital Transfer: Nick Colleran

Special Thanks to Randy and Sandra Bassett, Debbie Cefola, Chris Matzer, Carol Rothweiler, and all of our friends and family for their support.

For Booking Information Contact:
Attic Productions
3605 Vawter Avenue, Richmond, Virginia 23222
(804) 329-1759

Dedicated to Caroline Tucker and Pops. That's a Wrap!!!
MCD3605





© 1992, 1993,1994, published 1995 Second Story Records.
All rights reserved. Unauthorized reproduction is a violation of applicable laws.
All songs published by Muttafinga Music. ASCAP






Photos of Bare Bones in Concert


---
Available at

, 3002 W. Cary Street, Richmond, Virginia 23220
(804) 353-9996 and other Plan 9 Store locations.

If you would like, we can arrange to have "Time Won't Wait" CD delivered to your door so that you may enjoy it tomorrow evening. . . . The CD (selection # 951025) lists for $12.99 plus $ $3.50 for domestic shipping and handling (via UPS) (or $15 for next business day delivery). International deliveries... e-mail for quote.





Directory of our featured recording artists.

famous guitarmaker internet world headquarters site maintained by cyboboy@cybozone.com