Famous Guitarmaker Internet World Headquarters
March, 1997
Featured Artist
ARMWOOD
"Omega Man"


Cheez / Guitar, Vocals
Mark / Drums
T / Bass

SELECTIONS
Miracles (3:56)
No More (5:17)
Omega Man (3:10)
Living Dead People (1:25)
Alpha Jerk (2:32)
Self (4:14)
Milk Man (3:38)
Homeless (2:53)
Do It (4:32)
Friends (3:37)
Zooted (5:14)
Managed by-- Mofo Entertainment
Defended by John Yaged
All songs written by Cheez
All songs published by Armwood Music, / Whitcomb Court Music (ASCAP)
Produced by Mark Miley & Armwood
Engineered by Mark Miley
Recorded at Glass Hand Recording & Montana Studios, Richmond, VA
Studio Assistance -- Tom Martin, Todd "Tongo" Clark, Matt Miley
Design & Concept -- Cheez & Reginald Booker
Layout & Image Manipulation -- Tornado

ARMWOOD
PO Box 12127
Richmond, Virginia 23241-0127
e-mail: alajerk@aol.com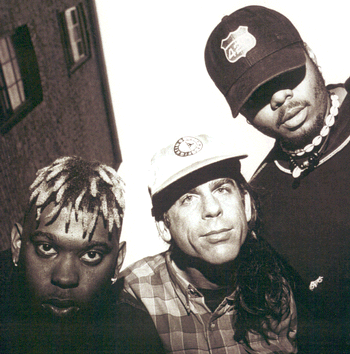 Armwood thanks: Todd "Tongo" Clark, Matt Miley, Tom Martin, Tom Zimmerman, Dave Scoven, Reginald Brooker, Grant Rutledge, Bill McElroy, Everybody at 106.5 "the Buzz," The Richmond Music Journal, Doug Gourley, Greg Crawford, Josef Lowe, Dida & A. J., Sandra Sellars, Alley Katz, Mom and Pop Gregory, Toni, Deuce, and Tre, the entire Patron and Turner Clan, Barbara and Donna Thomas, Jay and Ray (for not being yes men), The Booker family, Ramona and Lewis family, The Bridge (you know who your are), La Wanda "The Midgette" Ranes, Cory, Jeff, William, Bobby Henderson, Jasmine Smith, "Grandma Dynomite" Isabelle Brown, George and Jacqueline Armwood, Tracey Armwood, Mason Armwood, William and Wilbur Anderson, Dan Wickizer, Angie Conner, James and Patricia Allen, Mr. Thomas Mayfield, Ricky Sims, The Gore Brothers, Dingfield (for the constructive criticism), all the firends and family who believe in us. Long live the Farmvillians.


Available at

, 3002 W. Cary Street, Richmond, Virginia 23220
(804) 353-9996 and other Plan 9 Store locations.

If you would like, we can arrange to have "Omega Man" CD delivered to your door so that you may enjoy it tomorrow evening. . . . The CD lists for $12.99, selection # 9986 (USA) plus $3.50 for domestic shipping & handling (via UPS) (or $15 for next business day delivery). International deliveries... e-mail for quote.





Directory of our 1995, 1996, 1997, 1998 featured recording artists.

famous guitarmaker internet world headquarters site maintained by cyboboy@cybozone.com