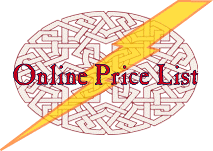 Anthony J. Huvard, Luthier
August, 1996
---
Hand-Crafted Stringed Instruments
Fabricated from Quarter Sawn, Air Dried (Imported & Domestic), Exotic Hardwoods.
Tops fabricated from Quarter Sawn, Hand-Split Spruce.
Custom Design & Fabrication
Initial Consultation, Design, and Drawings $250

Acoustic Guitars, Flat Tops from $3,500
Classicals and Flamencos from $3,500
Carved Arch Tops from $4,500
Dulcimers from $750 (custom designs on request)
Mandolins, Flat Tops from $1,500
Mandolins, Carved Arch Tops from $3,500
Violins from $3,500
Banjos from $3,000
Lutes... Student models from $2,500 others from $3,500
Electric Guitars from $1,500
Other Instruments... price on request

(please note: There is currently a minimum 24 month waiting list
for custom fabricated instruments. Orders secured by deposit will be
prepared on a first come first served basis. Delivery dates are estimates
and may be modified at the discretion of the builder.)
Lectures, Instruction and Workshops
Private Instruction in all aspects of the craft: per hour $50
Independent Study, interview required, 2 two-hour evening classes per week with occasional weekend workshops: 18 weeks, $1,500
Private Apprenticeship by invitation, interview required, all inclusive $10,000 first year... second and subsequent years by invitation... price negotiable
Available for group lectures and workshops... price on request
---
Resophonics/Banjos
Custom fabrication and major restoration is available, as are repairs of all types. Because of the unique nature of these instruments, estimates must be determined on an individual basis.
---
Guitars and Mandolins
Fingerboard Repairs
Complete refret includes:
Truss Rod Adjustment, Leveling and Trueing of fingerboard, new fret installation, and fingerboard conditioning $190 - $250
Fingerboard styles:

standard $190
maple $220
bound $250
(Individual frets each $13)

New Fingerboard includes: Fingerboard blank, fabrication & installation of fingerboard, and new fret installation $405


Installing new truss rod includes: Fingerboard blank and truss rod, removal and replacement of fingerboard, installation of frets and truss rod $585 - $600


Materials:

rosewood blank $25
ebony blank $25
truss rod $10 - $25


Labor:

level and recrown frets $125
remove and reset neck $250


Remove old fingerboard $150
Fabricate and install new fingerboard $200
Install frets on new board $200
Bridge Work, Acoustic Instruments - Includes touch-up lacquer
Reglue loose bridge $45 - $75
Remove and reglue bridge $75 - $125
Plane and recontour includes deepening saddle slot $75
Custom bridge includes: Materials, fabrication & installation $145 - $270

Fabrication $75
Installation $50 - $75
Bridge Blanks:


ebony $20
rosewood $15

Bridge pins


set/6 plastic $5
fancy plastic $7.50
ivory $100
brass $50

Production bridge: (includes materials & installation) $70 - $100

Installation $30 - $65
Material: production bridge
ebony $25
rosewood $20

Action Adjustment at nut and saddle $50
Fabricate and install nut (bone, ebony or ivory) $40
Material: nut blank, bone or ebony $7.50,ivory $15
Fabricate and install brass nut $50
Material: nut blank brass $10

Intonation
Standard saddle fabrication and installation $35

Material:
bone or ebony blank $7.50
ivory or brass blank $15

Ivory compensated saddle fabrication & installation $75


Material:
ivory blank $20

Brass compensated saddle fabrication & installation $125

Material: brass blank $15

Saddles for 12 string guitars add 50%
---
Electronics/Transducers
Troubleshoot electric guitar $25
Install transducer in acoustic guitar $50 - 75

Adjust intonation, lube, & service floating tailpiece... from $50
Standard tune-a-matics and tremolos $30
Complete rewire & shield (copper foil) stock configurations
Labor only $125

Custom or prototype wiring & shielding... from $150
Pickups rewound each $75
Custom routing for pickups per hole $75

Installations: locking nut $50

New pickups:


Straight swap on stock configurations each $30
Others, price on request
New tremolo assembly $150
Pre-amp, does not include parts $50 - $100
Electronic Service
Amplifiers, minimum charge $50
Electronic Components
Mini switches and Potentiometers each $7.50
Five position switches $15
Capacitors $2
Audio jacks 1/4" mono or 1/4" stereo $7.50
Switchcraft 1/4" phone plug $5
Switchcraft right angle 1/4" phone plug $7.50

Active tone circuits, pre-amps, or custom configurations... price on request

---
Violin Family
Task Violin

Bridge $41
Bow Rehair $41
Nut or Saddle $34
Sound Post $25
Reglue Fingerboard $34
Pegs $75
Reset Neck $66


Viola

Bridge $50
Bow Rehair $50
Nut or Saddle $34
Sound Post $25
Reglue Fingerboard $34
Pegs $77
Reset Neck $66


Cello

Bridge $77
Bow Rehair $54
Nut or Saddle $41
Sound Post $34
Reglue Fingerboard $41
Pegs $115
Reset Neck $77


Bass

Bridge $122
Bow Rehair $66
Nut or Saddle $122
Sound Post $41
Reglue Fingerboard $59
Reset Neck $122
---
Finish Work/Synthetic or Traditional
Electric guitar bodies:

Standard any color $250
Sunburst $375

( note: badly damaged instruments, and instruments affected
by silicone contamination, will not carry any guarantee.
Finish work is not an exact science, and as such, each repair has
it's own criterion for repair. Decisions regarding methodology
and technique remain the sole domain of the builder.)
Allow a minimum 12 months for standard refinishing projects.
Complete refinish

Standard acoustics $600
Sunburst $750
Spot repairs: minimum $50 price on request
French Polish or Varnish... price on request
Compound and Polish oxidized finish... includes hardware lubrication $50

Violins or other Instruments... price on request

Structural Repairs
Cracks and Breaks - minor reglue and patch each $50
Regraduation and other body restoration... price on request

Inlays
Custom Designs... per hour $50
Wood Marquetry... price on request
Materials available... per ounce:


Ivory $50
Mother of Pearl $50
Abalone $75
---
Written Appraisals
Can include patent information, research on maker, and condition of instrument from $150
Certificate-of-Value (for insurance purposes) $25

---
NOTE:
Minimum deposit of 50% is required for invoices exceeding $150.
All major credit cards accepted for your convenience.
All work is done by appointment only.Delivery dates are only estimated
and may be modified at the discretion of the builder.
All repairs are unconditionally guaranteed for life against defects in workmanship or materials.