I'm a guitar player as well as a guitar builder. My electric guitars reflect the qualities that are required by the working professional musician. Those qualities are ease of playability, superb tone, dependability and serviceability of the pickups and controls. I build instruments in two ways: I build custom, flashy, ornate, one-of-a-kind, artsy, instruments that are destined to become collectors items, they are unique and the workmanship is impeccable. I can provide elaborate inlays of shell, ivory, or precious metals, custom pickups, custom passive or active electronic circuits, and your choice of exotic hardwoods. Each of these instruments is built based on an initial design drawing that specifies ornamentation, pickups, materials, applications, etc. I build the instrument to your specifications.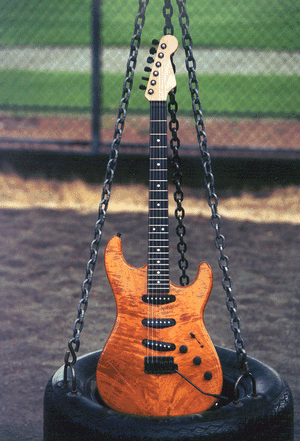 Custom Strat® style electric of highly figured maple over mahogany, ebony fingerboard, and custom wound Texas style 'hot rod' single coil pickups -- passive wiring, vintage style tailpiece, and Sperzel locking tuners. Built for jazz/rock guitarist and recording artist.Rik Wright.
As a guitar player I gotta tell you, flashy, glitzy, collector guitars are not necessilarly the instrument of choice for the working musician on the road. For those guys I build performing guitars based on the lines of classic musical instruments utilizing the best quality materials with an emphasis on playability and durability. These instruments are the tools of the working pro. They are less expensive than the custom instruments, feel great in your hand, sound fabulous and hold up to the rigors of the road. When you're ready for a guitar you'll play forever, let me build one for you.