Famous Guitarmaker Internet World Headquarters
Presents
Les Stansell
Pistol River, Oregon, USA
Stansell interview continued
Can you divulge any "secrets" of guitar building?

I know it sounds simple and obvious but, get the right teacher and be driven. There are many people that learn instrument building pretty much on their own, but I personally could not imagine doing it that way. You will save many years of frustration and wasted effort.
More specifically, I would say Number 1, learn to sharpen (obsessively) and Number 2, Always have proper lighting and use plenty of magnification because if your work looks good under magnification and lighting it will look flawless tothe naked eye..

How about your personal philosophy of guitar building?

I see the guitar primarily as a tool for the musician and secondary as a vehicle and opportunity for the builder's artistic expression. Also, I believe that next to the human voice, the guitar is the modern day universal instrument. It is difficult to find any form of music that the guitar is not applicable.The guitar is capable of infinite variation of percussion and melody. From extraordinarily complex jazz or classical arrangements to amazingly simple folk tunes and everything in between.To be able to bring a guitar to "life" in my shop and then to hear it being played by a great musician has been one of the biggest thrills of my life.

What are some of the differences between custom guitar building 15 to 20 years ago and today?

There is much more interest today in custom guitars. There are more quality builders today than ever before. The Word Wide Web is perfectly tailored to the industry. There is so much good information out there and the tools and supplies now available to the custom shop can really make a difference on quality control and production.
| | |
| --- | --- |
| A detail of Les' first rosette created 20 yrs ago while he was an apprentice...not too bad, but not nearly as clean as his recent work | The motif is quite similar, and it is obvious that the workmanship is much improved...a function of experience and dedication to quality. |

Where do you see it going in the future and what about amplification (i.e. pickups) in nylon string guitars?

My eyes were opened a few years ago when I did a series of display/demonstration cabinets for Audix microphones. They sent me to the N.A.M.M. show in Anaheim. I was blown away by that experience as far as the scope and size of the music industry and the new and different direction things are going. There are so many new applications today, it makes my head spin. If you can dream it up, you can do it. For now, I plan to stay with the Spanish Classic guitar. To me, it is the most beautiful guitar. As far as amplification is concerned, I say "Go For It". Pro Audio gear is so refined today that an almost perfect reproduction of the acoustic guitar is attainable, and if that is not enough there is always effects. I reinforce the tailblocks in my guitars specifically for this option.

There are some very fine instruments being built these days, why should someone buy a Les Stansell Guitar over the other custom guitars available?

Since I have never really been in the loop regarding the guitar building industry, it stands to reason that I need to prove myself. I have been quietly preparing for this for many years. I know what makes a quality instrument and I feel the guitars I'm building have what it takes.

Tell us a little about the Pistol River Concert Association?

Mary and I organized the first Pistol River Concert in July 1982 and we have averaged one concert per month since then. We are currently booked through Fall, 2000. Aside from some minor frustration it has been a great experience on many different levels from the countless memorable shows to the community involvement to getting to know the musicians on a personal level.

You've hosted some great musicians over the years. Sounds like fun. Tell us a little about that.

Again, our first concert was July, 1982. A great classical guitarist from Ashland, Oregon, named Joseph Thompson performed to a full house on a classic guitar that I built. We knew right then that we had started something. Within the first couple of years we had among others Bryan Bowers, Trapezoid, Dab Hand, Norman and Nancy Blake, and Scott Cossu. Some of our more recent stand-out performances would have to include James Keelaghan/Oliver Shroer, Susan McKeown & The Chanting House, Ed Gerhard, Peter Rowen/Tony Rice, Brooks Williams, The Burns Sisters Band, Martin Simpson, Oscar Lopez Trio, The Paperboys, Cordelia's Dad and the list goes on.

So, you're building a guitar for Oscar Lopez?

Actually, Oscar already has one of my guitars. I built him a prototype last year and we are working together to reform the next guitar exactly to his needs and I believe we are very close to doing just that. Without a doubt the most difficult challenge for building for Oscar is walking that fine line between "lightness" (for tonal quality and brilliance) and strength and durability because Oscar demands more out of guitar during a live performance than anyone I have ever personally experienced.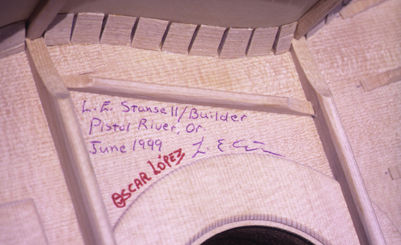 Most great builders have an expert musician to advise them,...the hands of the craftsman are
often guided by the wants and needs of the player

How many guitars will you be producing a year and what is the price range?

I am producing one per month and the price ranges from $3,000.00 to $4,000.00.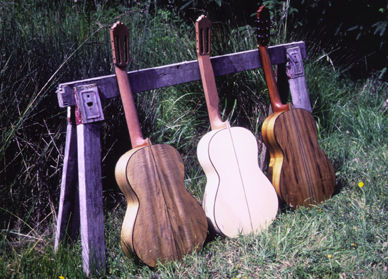 A trio of new Stansell classicals and flamencos. Alternative hardwood masterpieces
awaiting completion. Each is truely unique.
Typical 'specs' for guitars made by Les Stansell

All Guitars
650 mm String Length
52 mm neck width at nut
43 mm between centers of 1st and 6th string at nut
61.5 mm neck width at 12th fret
56 mm between centers of the 1st and 6th string at bridge
23 mm neck thickness
87 mm body depth at heel
97 mm body depth at end block
"Angel profile" headstock
Ebony binding/Ebony fingerboards
Custom rosettes/ all necks – Honduras mahogany re-enforced with ebony tension bar
Integrated Spanish Foot
All top bracing Canada Sitka Spruce (18 year air dry) Same tree as tops

Back & sides – Canadian Cypress
Top – Canada Sitka Spruce (18 year air dry)

Back & sides – Indian Rosewood – LMI Woods
Top – Engleman Spruce – LMI Woods

Back & sides – South Coast Oregon Myrtle (20 year air dry)
Top – Canada Sitka Spruce (18 year air dry)

Back & sides – Koa (20 year air dry)
Top – Canada Sitka Spruce (18 year air dry)




Directory of our featured builders.

© Featured Builder, Spring 1997, Famous Guitarmaker Internet World Headquarters,
http://www.cybozone.com/fg site maintained by cyboboy@cybozone.com