Famous Guitarmaker Internet World Headquarters
November, 1995
Featured Artist
Janet Martin

---

"Just Wakin' Up"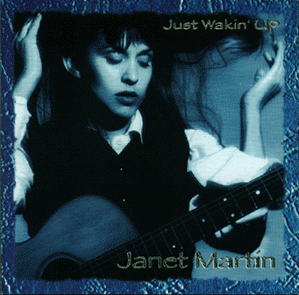 Sittin' on top of the world -
lookin down.
It's kind of neat up here
way up off of the ground.
I'm wondering what to do,
wondering what to do
about me and you.
Just wakin' up -
I open my eyes
to many things - I never saw
too many things I never see
Just wakin' up
I realize, the love in me.
-- Janet Martin





All Songs Written by Janet Martin
All Songs Arranged by Mic & Janet

---
Janet: Acoustic Guitar, Vocals
Mic Muller: Bass
Bob Antonelli: Drums
Lindy Fralin: Electric Guitar, Mandolin
Gary Fralin: Hammond Organ, Accordion
Rob Lytle: Percussion

---
Special Thanks To:
Cecil Hooker: Violin on Scandinavian Love Song
Mike McAdams: Electric Guitar on All Roads Lead to You
Mike Lucas: Pedal Steel on Silver Lining

---
---
SELECTIONS
1. All Roads Lead To You 4:35

2. Drink To Ghost 2:56

3. Scandinavian Love Song 3:30

4. Frozen Years 4:16

5. Silver Lining 3:56

6. Just Wakin' Up 3.54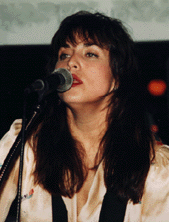 A Very Special Thank You to: Mic, who believed, pushed and preserved when I couldn't, the endless support and faith of my fans (*and their patience waiting for this), Chuck Wrenn for the D-28, as well as the undying support, Moondance Saloon and the rest of the gang there, Don Grubb for the Washburn, Bob Buffington & Dave McGill, all the great players involved on this project, John Jacobsen and Roger Daly.
CD Art & Design: Tom Zimmerman
CD Photography: Trib LaPrade
This is dedicated with love and gratitude to my mother.
Produced by: Mic Muller and Janet Martin
Recorded & Engineered by: Mark Miley & Kirk Henderson at Glass Hand Studio in Richmond, VA
Mixed by: Mark, Mic & Janet
Mastered by: Dave Shirk, SAE, Phoenix, Arizona
Black Diamond Records® Copyright 1995
Special note: This is a special "Limited Edition" E.P., a "one of a kind" first CD release. Close-up photo of Janet by Pat Mills.
"A popular regional artist, singer/songwriter Janet Martin has released her debut, "Just Wakin' Up" (Black Diamond). This recording is a six-song EP. To her credit, Martin's debut leaves the listener wishing to hear more.
Beautifully recorded with well-defined tones and textures, Martin's voice and acoustic guitar are mixed to the front. She is joined by some of this region's best musicians."
-- Patrick McCarty, "Richmond Times-Dispatch"

"This CD, with the full band, is a very worthy treatment of her music and her voice. . . . This EP is strong in many respects. It is a superb mixing job, with crystal clear guitars tingling with that freshly strung metallic shiny sound. Janet's voice has been captured better than I have ever heard it, and the harmonies are outstanding, particulary on "Frozen Years."
-- Killer Montone, "Richmond Music Journal"

".... So you have an unstoppable combination of factors here, poised to go however far this can go. The music is sharply engineered, all parts crisp, the vocals poignant, Martin in person is a dazzlingly attractive and refreshingly blunt, honest and devoid of artifice. This CD's music and the story behind it is just simply romantic. You can't get any better than that."
-- Mariane Matera, "Richmond Music Journal"
---
Available at

, 3002 W. Cary Street, Richmond, Virginia 23220
(804) 353-9996 and other Plan 9 Store locations.
If you would like, we can arrange to have Janet's CD delivered to your door so that you may enjoy it tomorrow evening. . . . The CD lists for $11.98 plus $3.50 for domestic shipping and handling (via UPS) (or $15 for next business day delivery). International deliveries... e-mail for quote.







Directory of our featured recording artists.

famous guitarmaker internet world headquarters site maintained by cyboboy@cybozone.com