Famous Guitarmaker Internet World Headquarters
January, 1997
Featured Artist
George M. Lowe
---

"Don't Be a Fool!"


The music on this instrumental disk is stylistically diverse and runs the gamut from simple and melodic to rhythmically complex with odd meters and unusual harmonies. It is by turns scary, beautiful, funny, strange, and calming.

A new CD is in the works. Information will be available through this site with respect to a release date.
All selections composed by George M. Lowe except Charley James, which is traditional. Compositional assistance on "Are you the man . . . ?" provided by Michael Harrell.

Performed by George M. Lowe on Acoustic & Electric Guitars, Bass Guitar, Keyboards, Percussion, B flat & Bass Clarinets, Alto Saxophone, Voice, Flipper, etc. B flat Clarinet on The Land of Nod & "Are You the Man . . . ?" played by Michael Harrell. Voice Lesson on Mobo (bad) by Todd Michau.


THE SELECTIONS:
"Are You the Man . . . 7" 3:00

The Exalted Name of Ernie 2:05

Moho (bad)/Mobo (good) 4:02

I've Got Alot of Teeth 3:19

Charley James 1:01

Buddy World 3:37

My Mind is Not Made Up 2:16

Watching the Cuttlefish 3:04

Dispensing with Pleasantries (a bad smell in Portland) 2:44

Dingus at the End of the Tunnel 2:14

Say Uncle 3:16

Copacetic/Chasing the Moonlight 4:36

She Took Away the Heat When She Went Downtown 3:44

The Happy Family 2:04

Home Sweet Home/There Goes the Neighborhood 3:14

Dealing With Death 7:01
Part I - The Keening March (say bye bye)
Part 2 - The Other Side (spectral doorknob)
Frequent Wind 1:10

The Land of Nod 3:24

"This is Why I'm not famous" 4:41

Fire (George & Bob's Little Secret)/Never Pet a Burning Dog 5:40
Total Running Time: 71:00

Recorded in The Hellhole between 12/87 and 3/90 on Yamaha and Tascam 4 tracks. Original Recordings produced by George M. Lowe. Mixed at McCavitt Productions by John Morand and George M. Lowe. Thank you, John for good mixing in less than ideal circumstances.

Digital mastering by Roger Seibel at SAE.

Front cover photo by Eric Norbom.

Typography, layout and logo design by Sarah Larson.

Special thanks to Steve Feigenbaum for his tremendous assistance, financial and otherwise. Without him this project might not have happened.

Thanks also to Michael Harrell, Sarah Larson, Lisa Lindsay, Larry Mason, Tom Garrett and especially Dollhead, for their assistance and encouragement. Thanks and apologies to Sean Allocca.

Thanks particularly to Brian Haehl of WMG, Inc., for being more helpful than I had any right to expect.

No Thanks to the worthless repair staff at Washington Music, without whom this project would have been completed long ago.

registered 1990 Mobo Music
1990 Dingus Discs
copyright 1990 Dingus Discs


"If your head is wax, don't stand in the sun." Benjamin Franklin


For acquisition, send $10 plus $5 International postage to
George M. Lowe
5533 Linwood Avenue
Richmond, VA 23224
(quantities are limited)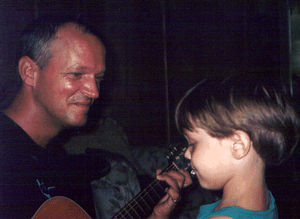 George M. Lowe and Jake



Visit our 1996 and 1995 Featured Recording Artists








© famous guitarmaker internet world headquarters site maintained by cyboboy@cybozone.com