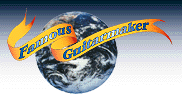 Blender System
Fishman developed the professional sound concept of combining an onboard mini mic and pickup, and created a unique compact Blender System that puts control and artistic decision making into musicians' hands onstage. It immediately set a new standard for live acoustic tone, presence and flexibility. There are now three outboard Blenders. They are small, simple to operate, packed with exceptional features and, still unique.


A c o u s t i cB I e n d e r ®
The original Acoustic Blender is ideal for guitar, 'cello, violin, mandolin, harp, banjo, and other instruments. It offers controls for bass, treble and gain, phase switches, trim controls for both the microphone and pickup channels, three effects loops and a master volume control. The Acoustic Blender provides phantom power for a microphone, plus an headphone jack, mute switch, ground lift, and low battery indicator. It operates on a 9-volt battery, or an optional AC power supply. Only one stereo cable is required between your instrument and the Blenders. Though Fishman Acoustic Blenders are compatible with many types of sensors, we recommend the Acoustic Matrix Pickups and our modified Crown condenser mini-mic.

B a s s B I e n d e r
The Bass Blender delivers the same long list of special features as the Acoustic Blender, but is specially engineered for the unique tonal requirements of acoustic bass frequencies.
P o c k e t B I e n d e r ®
The Pocket Blender packs plenty of performance into a package small enough to fit in the pocket of many hardshell guitar cases. Despite its compact size, it retains all the features of the other Blenders except for a slightly reduced range of output capabilities.
---
Fishman Transducers should be installed by properly trained, qualified personnel to insure optimum performance. If you need assistance locating a qualified installer, contact Gitarmkr@CyboZone.com.
Another new product from Fishman Transducers. . . POWERJACK (miniature endpin preamp)

Fishman Product index.





Famous Guitarmaker Internet World Headquarters, http://www.cybozone.com/fg