Famous Guitarmaker Internet World Headquarters
October, 1995
Featured Artist
John Bullard
New 1997 CD release "Bach on the Banjo"
---
"The Classical Banjo"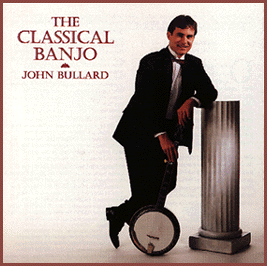 Other banjoists have dabbled in the classical field, but only a few have approached the repertoire with such single-minded intent. Pete Pardee, Fred Boyce (one of John's primary influences) and Brazil's Rogerio Santos have each made significant, if somewhat unheralded, strides in advancing the banjo as a "classical" instrument. This, however, is the first full-scale banjo project devoted to the profound works of Bach and his contemporaries.
The sheer act of transcribing these pieces for the banjo is a daunting task to be sure. By performing them with such consummate grace and agility, John becomes a potent new voice on the instrument. In the process, he helps to confound preconceived notions as to what the banjo can (or should) do.
- -Tony Trischka
Rounder Recording Artist
---
---
ABOUT THE MUSIC
JOHANN SEBASTIAN BACH (1685 - 1750), respected in his own day simply as a fine church musician and a dazzling virtuoso on the organ, is now universally acknowledge as one of the greatest musical geniuses of all time, having left us an enormous legacy of organ, harpsichord, orchestral, chamber and vocal music. The Bach legend - proud papa, prodigious worker, somewhat cranky worrier over family finances - is well known. His music, though, is often neglected today. It is our hope that John Bullard's delightful transcriptions will bring the work of this great master to a wider audience.
All the two-part inventions on this recording were originally written for harpsichord. What an inspired choice the picked five-string banjo is, especially in combination with guitar, for a new take on the quill-plucked sound of the harpsichord!
GEORGE FRIEDERIC HANDEL (1685-1759), unlike Bach, was no scion of a 300-year musical dynasty, surrounded by mentors from birth. Instead, young Georg Friederich (Handel was born in Germany but became a naturalized Englishman) taught himself secretly on a harpsichord smuggled into the attic. His father has insisted that he become a lawyer, and had forbidden music lessons. Genius, however, triumphed.
The Baroque era's two greatest composers differed in other ways. Bach's musical roots were in the church; Handel's, in the theatre. Both were astonishingly prolific, but their work habits were different; Handel was a brilliant improviser, borrowing constantly from his own and other's works; Bach composed in his head rather than at the keyboard, then polished and revised incessantly.
The three Handel compositions on this recording are transcribed from harpsichord works.
DOMENICO SCARLATTI (1685-1757), son of composer Alessandro Scarlatti, was another offshoot of a great musical family. Like Handel (and unlike Bach, who spent most of his life in Germany), Scarlatti travelled extensively, finding special inspiration in his native Italy.
While in Lisbon, Scarlatti taught music to the talented daughter of King John V, Maria Barbara, following her to Madrid upon her marriage to the Spanish Crown Prince Fernando. Here Scarlatti's gifts found fertile soil; encouraged by his patroness and former pupil, he wrote over 500 works for harpsichord (including the Capriccio and two Sonatas heard on this recording), for which he remains justly famous. (These three titles, followed by L. and a number, refer to the Longo catalog, created by Alessandro Longo in 1910, the earliest of three attempts to collect and date Scarlatti's works.)
Incidentally, have you noticed what a good year for music 1685 was?
MATEO ALBENIZ (c. 1755-1831), Spanish composer and theorist, spent most of his career as a maestro de capilla (church music director). Naturally, he wrote a good deal of sacred music, as well as some keyboard works such as the charming Sonata on this recording. Mateo Albeniz (not to be confused with the more famous Isaac Albéniz, (1650 - 1909), enjoyed much success in northern Spain during his lifetime.
JOHN DOWLAND (1563-1626), English composer and lutenist, travelled and performed extensively throughout Europe. In 1598 he arrived at the Danish court of Christian IV, for whom he wrote the King Of Denmark's Galliard on this recording. Dowland finally achieved his life's ambition when he received the post of court lutenist to the King of England in 1612. Today he is mostly remembered for his lute compositions, beloved by guitarists, and his great, tragic lute-songs.
ROBERT DE VISEE (fl. late 17th century - early 18th), was a French composer, multi-instrumentalist (guitar, theorbo and viol) and singer attached to the court of Louis XIV. This versatile musician was even the King's official guitar teacher! The Prelude on this recording is from one of Visee's 12 published guitar suites.
And now, leaving behind the image of the great Sun King struggling over his scales, let us relax and enjoy John Bullard's splendid performance of these Renaissance, Baroque and Classical gems!
- - Joemy Wilson
---
---
ABOUT THE MUSICIANS
John Bullard is internationally recognized for transcribing and developing a classical repertoire for the five-string banjo. A highly-regarded bluegrass artist as well, John began playing the banjo as a child and was strongly influenced by the legendary Earl Scruggs. He served on the 1992 faculty of the world-renowned Tennessee Banjo Institute along with such luminaries as Pete Seeger and Bela Fleck.
The Classical Banjo, one of the very few banjo recordings in existence devoted to the Baroque repertoire, is John's long-awaited debut album.
John Patykula, classical guitar, is head of the guitar department at Virginia Commonwealth University. A student of Guitar virtuoso Jesus Silva, John made his Carnegie Hall debut in 1987.
Steve Bennett, harp guitar, won the 1987 National Flatpicking Contest in Winfield, Kansas, and has four solo recordings to his credit. Here he is heard playing a beautiful 1909 Dyer Brothers harp guitar originally owned by his great-grandfather.
William Comita, cello, is currently the assistant principal cellist with the Richmond Symphony, and has recorded on the Opus One label with the Roxbury Chamber Players and on BMG with Bruce Hornsby. He attended Lawrence University and the Cleveland Institute of Music.
Greg Giannascoli, vibraphone, has performed throughout the U. S., Mexico and the Caribbean as a percussionist and marimba soloist. He has won several solo and concerto competitions, including the National Music Teachers Association/Wurlitzer Collegiate Artist Competition and the Montpelier Cultural Arts Society Recital Competition.
---
---
SELECTIONS
1. Kemp's Jig(Anonymous; adapted for banjo by Fred Boyce) 1:41, Banjo
2. Invention # 13(J. S. Bach) 1:39, Banjo, harp guitar
3. Invention # 1(J. S. Bach) 1:29, Banjo, vibraphone
4. Sonata L.271(Domenico Scarlatti; transcribed by Bullard and Comita, with added guitar part by Jocko MacNelly) 2:23, Banjo, guitar, cello
5. Prelude from Cello Suite # 1(J. S. Bach) 2:40, Banjo
6. Menuet(G. F. Handel) :51, Banjo
7. Invention # 8(J. S. Bach) 1:24, Banjo, vibraphone
8. Capriccio L.84(D. Scarlatti) 2:51, Banjo, guitar, cello
9. Bouree #2 from Cello Suite # 4(J. S. Bach) :47, Banjo
10. Invention # 2(J. S. Bach) 2:02, Banjo
11. Prelude(Robert de Visee) :52, Banjo
12. Sonata L.104(D. Scarlatti: transcribed from the harpsichord original for two guitars by Emilio Pujol, adapted by Bullard and Patykula) 3:34, Banjo, guitar
13. The King of Denmark's Galliard(John Downland) 1:29, Banjo, cello
14. Gavotte en Rondeau from Violin Partita # 3(J. S. Bach) 3:17, Banjo
15. Sonata(Mateo Albeniz) 4:02, Banjo
16. Menuets # 1 and #2 from Cello Suite #2(J. S. Bach) 3:29, Banjo
17. Sonatina/Gavotte(G. F. Handel)2:00, Banjo, guitar
18. Passacaglia from Guitar Suite #5(Ludovico Roncalli) 2:11, Banjo
19. Bauerntanz(J. S. Bach) :52, Banjo, vibraphone
20. Invention # 14(J. S. Bach) 1:41, Banjo, harp guitar
21. Courante from Cello Suite # 1(J. S. Bach)3:02, Banjo
---
Produced by Jonathan Mela, John Bullard and Joemy Wilson; Digitally recorded by Jonathan Mela at Big Audio, Richmond, Virginia, May, June and July 1992, October 1994 and April 1995; Digitally mixed by Scott Fraser at Scott Fraser Studio, Los Angeles, February and May 1995; Digital mastering by Kevin Gray at LRS, Burbank; Arrangements as specified in linear notes; Liner notes by Joemy Wilson; Photography by Claudia Kunin; Art Direction by Jon Harvey and Joemy Wilson.

For further information about John Bullard, or for a complete catalog of Dargason Music releases, please contact: Dargason Music, PO Box 1899, Burbank, CA 91503, (818) 846-4981 or (800) 681-3203.

Thanks to: Jon Harvey, Joemy Wilson and all the folks at Dargason Music; Tony Trischka, Fred Boyce, John Patykula, Jocko MacNelly, Anthony Huvard, Dianne Yensley, Grete Dollitz, Frank and Betty Payne, McCabe's Guitar Shop, and especially Karen, Mom, Betsy and Jesse. -J.B.

Unless otherwise noted under individual titles, banjo transcriptions are by John Bullard; guitar transcriptions by John Patykula; harp guitar transcriptions by Steve Bennett; vibraphone transcriptions by Greg Giannascoli; cello parts composed by Jocko MacNeely.
---
Available at

, 3002 W. Cary Street, Richmond, Virginia 23220
(804) 353-9996 and other Plan 9 Store locations.


If you would like, we can arrange to have John's CD delivered to your door so that you may enjoy it tomorrow evening. . . . The CD lists for $14.99 (USA) (6100135752) plus $3.50 for domestic shipping and handling (via UPS) (or $15 for next business day delivery). International deliveries... e-mail for quote.


Directory of our featured recording artists.

famous guitarmaker internet world headquarters site maintained by cyboboy@cybozone.com