George Wilson, Luthier
Williamsburg, Virginia, U.S.A.
Featured Builder - Summer, 1996



| | |
| --- | --- |
| 18 inch archtop guitar of curly maple with spruce top. The neck is 100 year old Spanish mahogany almost as hard as ebony. Pegs are new old stock imperials, front view not available. I made this in 1990. | Peghead of archtop inlaid with pearl, abalone, and foliage of boxwood. Fingerboard with pearl blocks inlaid with abalone floral forms. Rod cover not on guitar. |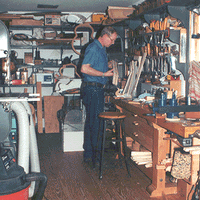 A general view of my guitar shop. The bench is one I made in 1983. I went to a country sawmill and had 4" x 5"s of beech custom cut. Then they were dried in a loft for 6 years. This bench is a lot heavier than any you can buy, as the legs are also 4" x 6", all double mortised and pinned together. Protruding from the bottom shelf of the bench are Appalachian spruce strut blanks, cut years ago on Cheat Mountain, West Virginia.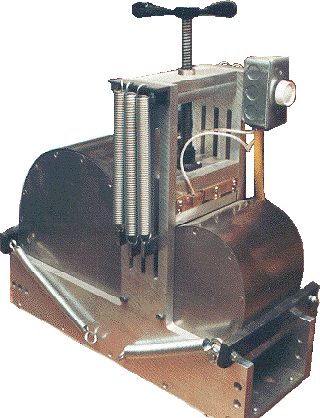 The improved universal style side bender I made in 1995. The frame is 3/4" aluminum, forms are 1/4" aluminum. Note the 3 strong springs in the waist rather than one. The waist caul is electrically heated, with rheostat. This bender is very fast and effort free.
Contact our Featured Builder - George Wilson
Directory of our featured builders.
Featured Builder, Summer, 1996 Famous Guitarmaker Internet World Headquarters, http://www.cybozone.com