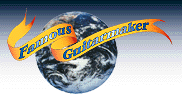 Prefix Onboard Preamp Series
This series of onboard preamp systems represents another innovative leap in design. The patented housing of the Prefix Preamps enables them to pivot out of the guitar to allow easy access to the 9-volt battery. Each versions is supplied with an Acoustic Matrix Pickup. All systems provide maximum sound-shaping and feedback-fighting capabilities and produce clean, noiseless signals for live sound and recording. The controls are easy to use. Battery life varies with model.
P r e f i x O n b o a r d B l e n d e r ®
The Prefix Onboard Blender replaces the brilliance control of the Prefix Plus with a blend control for mixing the pickup signal with a prewired mini condenser microphone mounted on the underside of the preamp chassis. The master volume controls both the pickup and the microphone signals together.
---
Fishman Transducers should be installed by properly trained, qualified personnel to insure optimum performance. If you need assistance locating a qualified installer, contact Gitarmkr@CyboZone.com.


Fishman Product index.





Famous Guitarmaker Internet World Headquarters, http://www.cybozone.com/fg