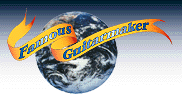 VS-100P Powerbridge ©

The VS-100P vibrato unit makes all the Powerbridge advantages available for Strat style guitars.
For even more versatility, the Powerjack is easily wired to accept a microphone lead for use with the Acoustic or Pocket Blenders.
---
Fishman Transducers should be installed by properly trained, qualified personnel to insure optimum performance. If you need assistance locating a qualified installer, contact Gitarmkr@CyboZone.com.

Fishman Product index.





Famous Guitarmaker Internet World Headquarters, http://www.cybozone.com/fg