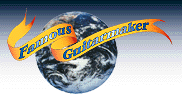 Passive Pickups Passive pickups often function well alone, but their performance and flexibility can be enhanced with interfacing electronics.


Designed specifically for arch-top guitars, this high-performance piezo-ceramic pickup consists of dual vibration-sensing elements embedded into a fully adjustable ebony bridge. Unlike electromagnetic designs, this pickup delivers a truly accurate reproduction of the guitar's natural acoustic sound and feel. Mounting the bridge or output jack requires no holes or alterations to the instrument.
---
Fishman Transducers should be installed by properly trained, qualified personnel to insure optimum performance. If you need assistance locating a qualified installer, contact Gitarmkr@CyboZone.com.


Fishman Product index.





Famous Guitarmaker Internet World Headquarters, http://www.cybozone.com/fg